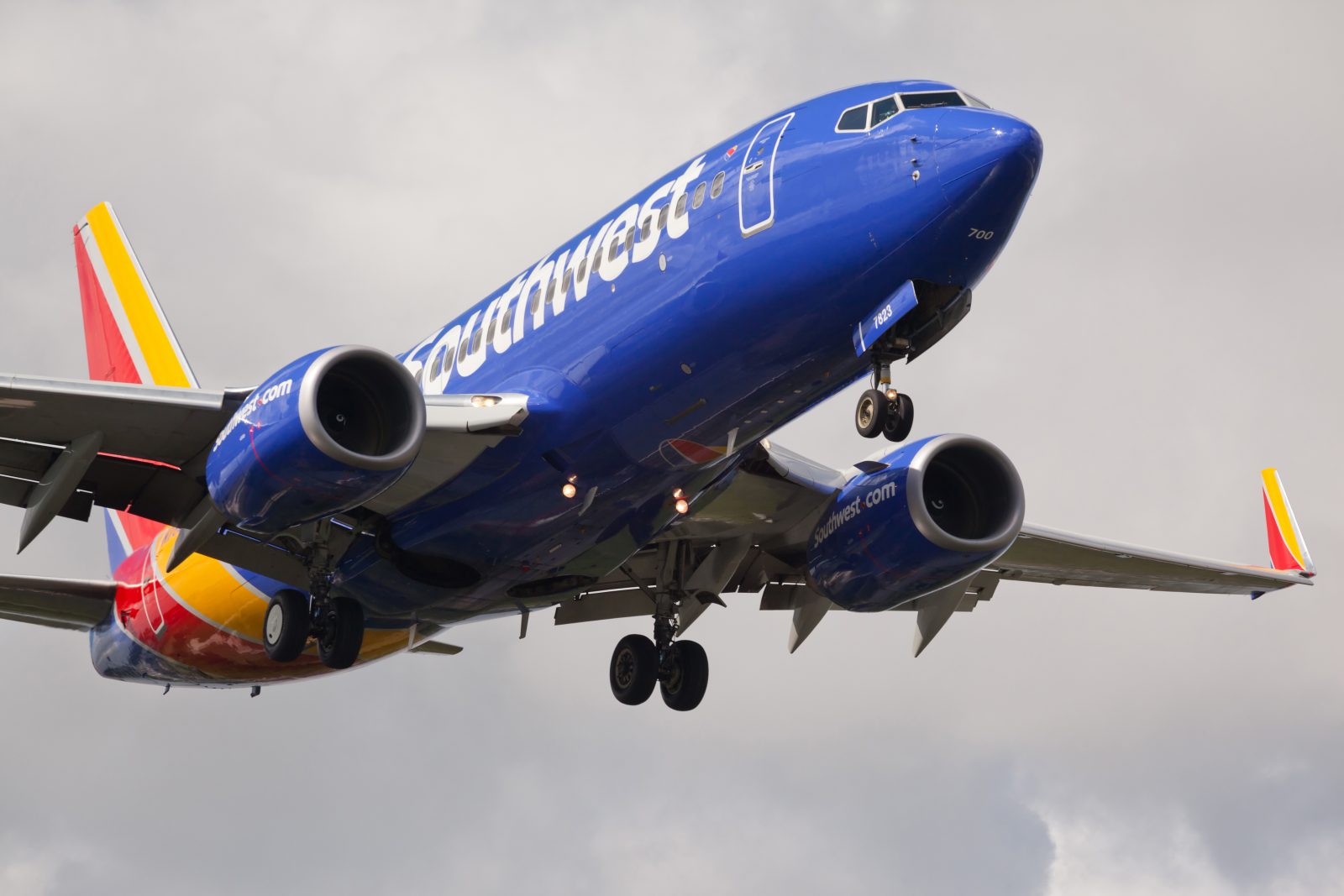 Shutterstock
A woman who was involved in an onboard disturbance aboard a Southwest Airlines flight that resulted in a flight attendant suffering a broken jaw has been sentenced to five years of federal probation and has received a $250 fine following a sentencing hearing on Friday.
Brenda Marie Aquino-Washington, 22, of El Paso, Texas, was arrested on January 9, 2021, after the Southwest flight from Nashville to San Antonio was forced to make an emergency diversion to Little Rock National Airport in Arkansas after a flight attendant was repeatedly punched in the face.
Court documents allege Aquino-Washington got into an altercation with flight attendants after she removed her face mask and then became combative when instructed to put it back on.
According to the Arkansas Democrat Gazette, Aquino-Washington threw food into a flight attendant's face before launching into a violent attack, repeatedly punching the flight attendant in the face.
Other crew members were eventually able to drag Aquino-Washington off the victim and place her in restraints while the pilots diverted to Little Rock.
The flight attendant still suffers constant pain and partial paralysis of her jaw to this day.
Federal prosecutors decided to charge Aquino-Washington with the misdemeanour crime of assault within a maritime and territorial jurisdiction rather than a more serious felony crime.
The maximum sentence for this crime is one-year imprisonment plus a $100,000 fine but US sentencing guidelines suggest judges slap offenders with probation and a fine.
Court records show that at the time of the attack, Aquino-Washington was suffering from a mental health crisis and has since been diagnosed with bipolar disorder. Her attorney claimed she had no prior warning that she would have acted as she did on the flight.
Several months after this incident, a Southwest flight attendant was filmed being repeatedly hit in the face by a passenger on a flight from Sacramento to San Diego in another face mask-related dispute.
Immediately after that assault, Southwest delayed the resumption of onboard alcohol sales over fears that unruly passenger behavior would only get even worse.
Vyvianna M. Quinonez of Sacramento pleaded guilty to interfering with a crew member and was sentenced to a 15-month prison sentence and ordered to pay $33,000 in restitution and fines.
Mateusz Maszczynski
Mateusz Maszczynski honed his skills as an international flight attendant at the most prominent airline in the Middle East and has been flying throughout the COVID-19 pandemic for a well-known European airline. Matt is passionate about the aviation industry and has become an expert in passenger experience and human-centric stories. Always keeping an ear close to the ground, Matt's industry insights, analysis and news coverage is frequently relied upon by some of the biggest names in journalism.