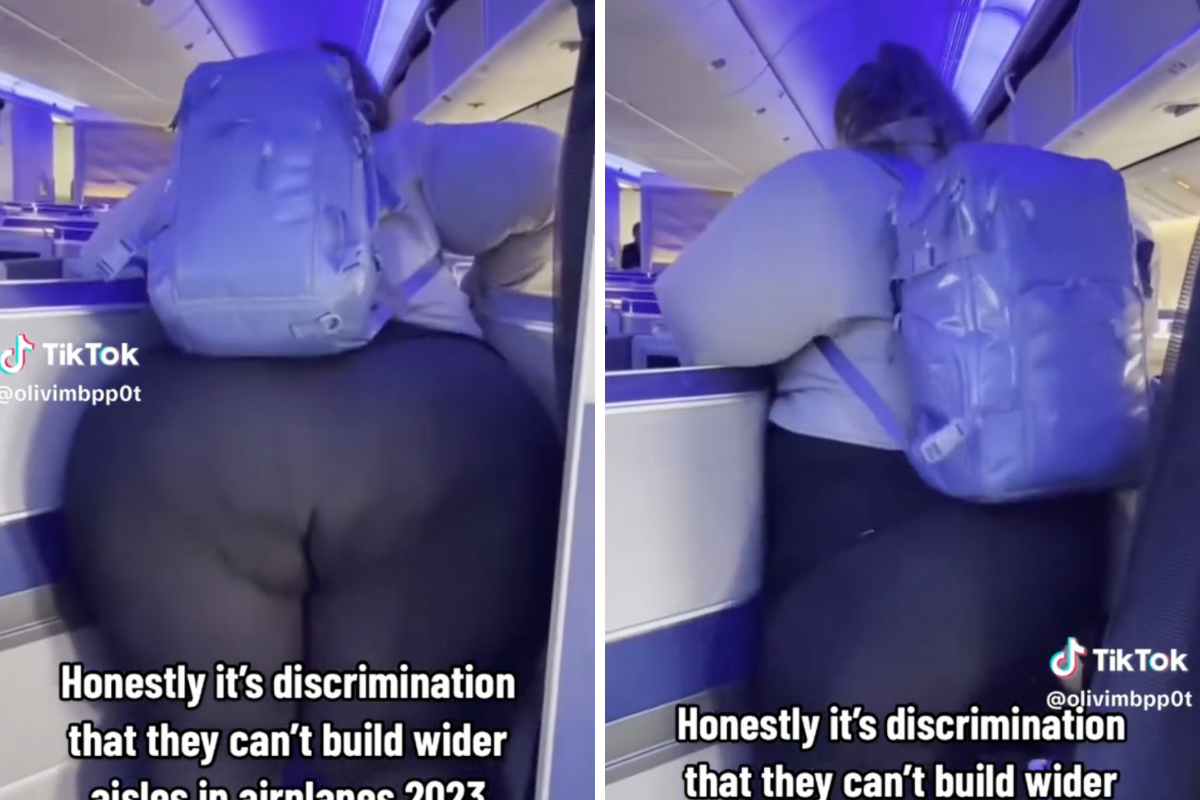 TikTok
A TikTok user who goes by the name of 'Big Curvy Olivia' has accused United Airlines of discrimination after she posted a video of a plus-size influencer struggling to squeeze down the airplane aisle on a recent flight due to her size.
In a video uploaded to TikTok, the woman became stuck as she tried to walk down the aisle only to discover that her hips were wider than the aisle. The woman then had to twist sideways and force herself along the aisle, banging into seats as she went.
The woman who posted the video captioned it: "Honestly, it's discrimination that they can't build wider aisles in airplanes (in) 2023".
The woman featured in the video goes by the name of 'BoBerryVIP' on TikTok and hasn't criticized United Airlines, instead preferring to share tips about how to travel as a person of size. She originally posted the video in March and didn't accuse airlines of discrimination because of the size of airplane aisles.
Perhaps unbeknown to 'Big Curvy Olivia' is the fact that rather than get bigger, the width of airplane aisles is increasingly getting tighter as airlines squeeze ever more seats on their aircraft.
In this case, the woman whose video was used in the now-viral meme was filmed struggling to get past United's Polaris Business Class seats. Premium seats are on a growth trajectory, and the new standard for Business Class seats with walls and doors do make it difficult for people of size to comfortably get down the aisle.
Late last year, a Brazillian plus-sized influencer raged against Qatar Airways after the airline refused to let her travel in Economy Class and demanded she pay extra for a premium seat with extra space to accommodate her.
Qatar Airways had little sympathy for Juliana Nehme and explained in a statement that "anyone who impedes upon the space of a fellow traveller and cannot secure their seatbelt or lower their armrests may be required to purchase an additional seat both as a safety precaution and for the comfort and safety of all passengers."
Earlier this year, another plus-sized influencer started a campaign to force airlines to provide larger passengers with two seats for no additional fee. Jae'lynn Chaney said people of size should be given two or even three seats for the price of one if they are too large to fit in a single seat.
"We are not asking for special treatment or luxury accommodations," Chaney said. "We simply want enough space to travel comfortably, without being discriminated against because of our size."
Mateusz Maszczynski
Mateusz Maszczynski honed his skills as an international flight attendant at the most prominent airline in the Middle East and has been flying throughout the COVID-19 pandemic for a well-known European airline. Matt is passionate about the aviation industry and has become an expert in passenger experience and human-centric stories. Always keeping an ear close to the ground, Matt's industry insights, analysis and news coverage is frequently relied upon by some of the biggest names in journalism.