Photo Credit: Lufthansa
Mateusz Maszczynski
Mateusz Maszczynski is a serving international flight attendant with experience…
The world's biggest and possibly the world's most famous beer festival gets underway once again in Munich for a two-week extravaganza starting on 22nd September.  The festival, is, of course, Oktoberfest and it draws in tens of thousands of beer aficionados and tourists both domestically and from afar – many of whom dress up in traditional Bavarian costumes like lederhosen and Dirndl (the outfit typically worn by women).
And just like in years gone by, Germany's flag-carrier airline Lufthansa is getting in on the act with special Oktoberfest services on a select number of flights from its Munich hub.  Lufthansa cabin crew will be forgoing their usual uniform in favour of the traditional costumes designed by costume specialist Angermaier.
On Lufthansa's mainline services, there are three scheduled Oktoberfest services – Between Munich and Newark on 19th September, Singapore on 25th September and finally Shanghai on 6th October.  Between 5th to 7th October, cabin crew on Lufthansa CityLine flights will wear their Oktoberfest costumes on select flights to Berlin, Cologne/Bonn, Luxembourg, Pisa, Genoa, Amsterdam, Rzeszow, Timisoara, and Cagliari.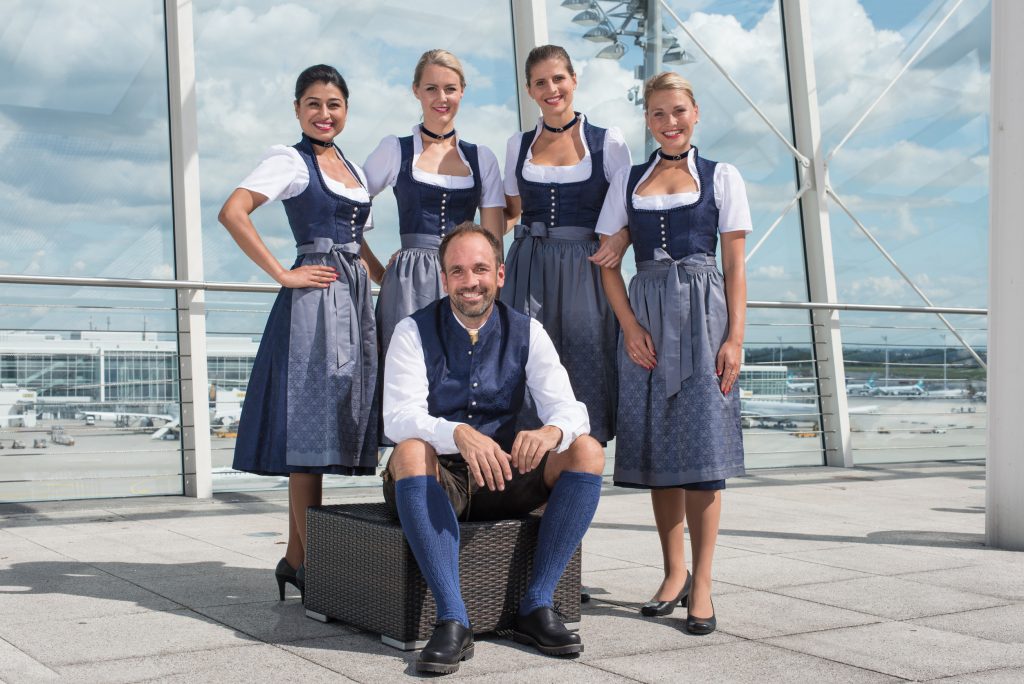 It's a tradition that Lufthansa has taken part in for years but this time – and after a 50-year hiatus – the airline will once again be serving fresh draft beer from a keg on it's mainline Oktoberfest celebration flights.  But serving draft beer at 38,000 feet isn't without its challenges – normally the low pressurisation of a passenger jet at altitude would make it impossible but Lufthansa is using a specially designed keg for the purpose.
In fact, it's a challenge that has been faced by other airlines in the past – Dutch carrier, KLM teamed up with Heineken in 2016 to create a "BrewLock" keg that uses built-up air pressure, rather than the traditional CO² gas used for draft beer on the ground.  KLM introduced a Heineken draught-beer trolley which occasionally is used in-flight but the service is patchy at best.
Lufthansa says the tradition of serving beer from a keg dates back to the days of its "Lufthansa Senator Service" in the 1960's – although, back then, passenger jets didn't fly at the altitude they do nowadays.
The celebrations continue for Business Class passengers across all flights who will enjoy a special Oktoberfest menu, while the airline's lounges in Munich will also be pulling out all the stops.  Lufthansa expects passengers to consume something in the region of 38,000 pretzels, and nearly 750 kg of white sausage during the festival.
Mateusz Maszczynski
Mateusz Maszczynski is a serving international flight attendant with experience at a major Middle East and European airline. Mateusz is passionate about the aviation industry and helping aspiring flight attendants achieve their dreams. Cabin crew recruitment can be tough, ultra-competitive and just a little bit confusing - Mateusz has been there and done that. He's got the low down on what really works.