Photo Credit: Twitter / @manlikeash9
There were chaotic scenes at Dubai International Airport (DXB) on Wednesday night as thousands of passengers queued in long lines and with few signs of social distancing being observed. There were crowds of passengers both waiting to check-in for a departing flight and to get to the front of the arrivals immigration queue.
The crowds appeared ahead of Dubai's lavish New Year's Eve celebrations which are set to go ahead in the city despite the Coronavirus pandemic which has either curtailed or drastically reduced the size of traditional festivities around the world.
Twitter user Raphael Rashid (@koryodynasty) claimed he was at the airport on Wednesday and had seen the crowds for himself: "Can confirm the scenes were a little chaotic just a while ago here at Dubai Airport," he wrote on Twitter. "Packed flight out of the UK, most people not transiting but rather leaving the airport to go on holidays. Zero social distancing. Pic is at back of queue."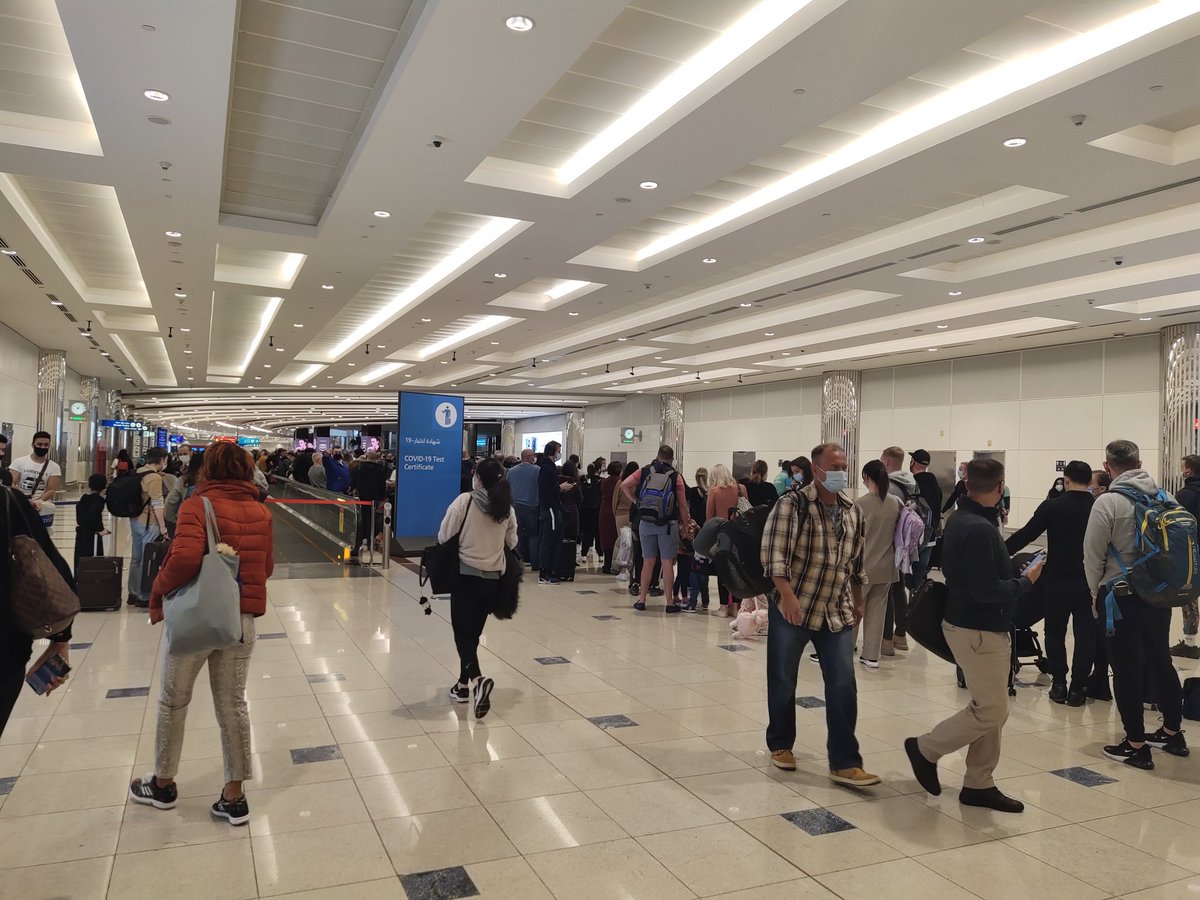 "The problem with presenting PCR negative certificate print-offs on arrival is that they can easily be faked or forged. PDF editor anyone?," Rashid continued. "Word has it some places in the UK are even offering such sham services. Meanwhile, 1000s of Brits fleeing Tier 4 London for tanning in Dubai."
Emirates has warned of a busy travel period over the Christmas and New Year period but the airline doesn't anticipate the peak to arrive until the 2nd and 3rd January. The airline said it expects 70,000 passengers across both days to pass through Terminal 3 along with a "rush of inbound traffic into the city".
Passengers are being urged to check-in no later than three hours ahead of departure and customers who arrive with less than one hour before departure will be refused travel.
"Passengers are encouraged to build in extra time in their journey to avoid delays with expected traffic congestion coming into Terminal 3," the airline warned on Wednesday.
Despite the Coronavirus pandemic, Dubai said it has planned a "packed programme of events" to celebrate New Year's Eve which includes firework displays at the Burj Khalifa and Burj Al Arab, as well as concerts across the city and DJ performances.
"When it comes to celebrations and the New Year countdowns, Dubai never falls short of expectations," the Dubai Media Office announced. "Dubai promises visitors and residents something for everyone to enjoy, all with appropriate safety precautions and social distancing measures in place."
Safety precautions include a rule of one person per four square metres of venue space and private gatherings must not exceed 30 people.
Mateusz Maszczynski
Mateusz Maszczynski honed his skills as an international flight attendant at the most prominent airline in the Middle East and has been flying throughout the COVID-19 pandemic for a well-known European airline. Matt is passionate about the aviation industry and has become an expert in passenger experience and human-centric stories. Always keeping an ear close to the ground, Matt's industry insights, analysis and news coverage is frequently relied upon by some of the biggest names in journalism.